| | |
| --- | --- |
| Selling Through IAG Auctions | BACK |
Why Consign With Us?
International Auction Galleries has been a leading Australian Auction House for 34 years, established in 1985 with a proven track record and an outstanding reputation for integrity and service. They have a strong 'Vendor First' attitude, treating each collection with care.
IAG's commission rates are the most competitive in Australia, with NO SELLERS COMMISSIONS OR FEES (0% Commission), and NO other compulsory charges! With others charging up to 40% in total commissions, fees and charges, you will SAVE by selling with IAG. Lower fees means both Buyers and Sellers are the big winners in our auctions!
We specialise in high quality "boutique" style live and online Coin and Banknote Auctions with a focus on selling the rarest and the highest quality Coins and Banknotes, as well as unreserved lots from $1 and everything in between! Our Signature Live Floor auctions are a yearly numismatic highlight, attended by many of the biggest dealers and collectors in Australia. As of 2019, IAG has held more than 260 Live, Online and Postal Sales over 34 years and achieved well in excess of $125 Million in sales.
We also hold more Auctions than any other auction house, averaging an auction every 6 weeks. This means you have more options when it comes to selling, and have a shorter wait time for payment. Our auctions continue to set record prices, and we currently hold several pricing "World Records", including the highest price ever realised for any Australian Numismatic Item at $1,909,000 (this is also the highest price achieved for any item at any Numismatic Auction in Australia). In 2008 IAG sold 2 single items in consecutive sales for over $1,000,000 each. Our last 20 signature live auctions have broken countless world records, and we have sold in excess of $40,000,000 in these auctions alone!! (See Download section for our current or previous Catalogues and Prices Realised).
We are the number one Australian Numismatic Online Auction house, with regular Live Online auctions from 2012 (the first to run complete live Online auctions) and an online auction presence dating back to 2004! We have offered over a hundred thousand lots online since then to tens of thousands of clients across the world. Our proprietary in-house developed Live Online Internet Auction program is not only market leading, but completely FREE to bid through! As we have developed and run it ourselves, this means we can continue to expand and evolve in all aspects of Numismatics whilst continuing to provide innovative and better ways to buy and sell as the market evolves.
IAG's Numismatic Specialist and Head Auction Co-ordinator Paul is considered one of the leading numismatic experts on Australian Coin and Banknote Rarities, and has been National President of A.N.D.A. (The Australasian Numismatic Dealers Association) four times. Paul is also the longest ever serving ANDA Committee member (21years and counting) including serving as Vice President for 8 years, and chairing numerous Numismatic committees, and heading up the Ethics and Good Conduct Committee (E&GCC).
No Sellers Commissions, more Auctions, faster 30 day payment, a market leading proprietary in-house developed Live Online Internet Auction platform, confidentiality, integrity and professional service – that's why we are....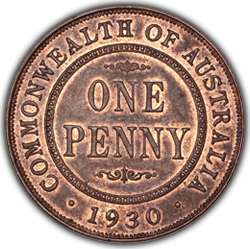 The Leaders in Live and Online Numismatic Auctions in Australia.
Auction Information
Two Signature Auctions and up to four Live Online
auctions held per year with worldwide exposure
Over 2,500 Worldwide client database
Over 1000 active Online bidders per sale
Every lot photographed in high quality
World record holders with consistently strong and record prices achieved
The lowest commissions in Australia with sellers rates at 0% and no other fees
Industry leading clearance rates, with less wait time for payments - 100% secure and guaranteed from our trust account.
Strictly 30 Day payment on all accounts direct to your nominated account
Over 90 years of combined experience, with hundreds of auctions over 39 years
Run by a past president of A.N.D.A. with extensive Numismatic experience and recognised industry wide for integrity and honesty
All of your funds are held in a seperate Trust account, thus 100% guaranteeing payment is on time and completely secure – something most other major auction houses don't provide!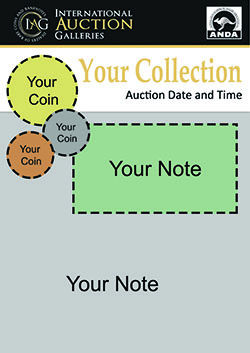 Custom Design Your Own Auction!



Introducing IAG's Single / Select Vendor Sales – A new way to sell!



Higher value and larger collections can now be sold with us in your own, custom designed Auction!




Want your own custom printed* or Online Catalogue, an auction framework set to your specifications, with every lot presented in high resolution and sold at your preferred time?




With our proprietary cutting-edge software, now you can!





The possibilities of selling your collection with us are endless




We Love Your Collection as Much as You do!






What Do I Do Now?



The first step in consigning lots is to fill out our brief Vendor Lots Summary. To contact us with your items and receive our feedback please: Click Here



Send ALL Auction Items to:



IAG
PO BOX 1380
Broadbeach
QLD 4218

OR:

See us at an ANDA Fair in Sydney, Melbourne, Perth or Brisbane: Click Here for Schedule



You can also drop into our Gold Coast office to deliver lots in person. Please call: (07) 5538 0300 for an appointment or any queries.




NOTE: Our cut off date for consignments is generally around 6-8 weeks prior to the auction, due to photography, printing and postage time constraints.




Once your item(s) are received, you will then be issued with an auction receipt with the applicable reserves. Prior to the auction you will also receive:



A complete individually listed vendor statement with your vendor code, lot and estimate details
A current hard copy printed Auction catalogue and linked Online Vendor accounts
Lots under $250 will be submitted unreserved, all other reserves are to be determined by IAG in consultation with the vendor.
All lot descriptions, grading and other relevant information is completed and checked by IAG. Any details of provenance and prior history of lots will also help in this process.
For any further information: (07) 5538 0300.
We Specialise in: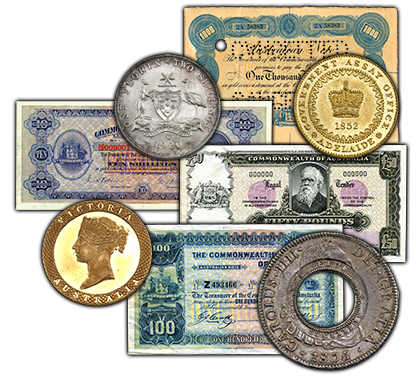 Key Australian Numismatic Rarities:-


High Grade and Rare Pre-Decimal Coins and Banknotes
Holey Dollars and Dumps
Proof and Pattern Coins
Pre Federation Banknotes
Colonial Coinage and Proclamation Currency
Quality Pre Decimal Banknotes
PCGS graded coins and notes of all types
Taylor" Patterns and Kookaburra Pennies
Specimen Notes and Starnotes
Adelaide Pounds and Rare Gold Coins
1930 Pennies, 1923 Halfpennies and Key dates
Misprint Notes and Mis-Struck Coins
Decimal and Polymer Banknotes
World, British and Ancient Coins
Mint Products, Bulk lots and Unreserved
...and did we mention... ...0%** COMMISSION...
* Subject to collection value and format of auction via mutual agreement with IAG
** See our Commissions & Fees for Details
Click HERE to download
our latest Brochure